My poor husband. He's crushed. Crushed like the thousands of tomatoes that wind up in cans of Campbell's condensed soup.
As we were walking through our neighborhood 99 Cent Store earlier today he noticed that the Campbell Soup packaging has been changed. Gone is the familiar image made so famous by Andy Warhol! Gone is the gold medal seal from the 1900 Paris Exhibition! Gone is my husband's bragging rights! Sacrilege!
The gold medal seal, which has been used by the Campbell company for over 100 years, was actually won by my husband's great-grandfather who was their first executive chef.
Here is my great-grandfather-in-law in an early Campbell's ad.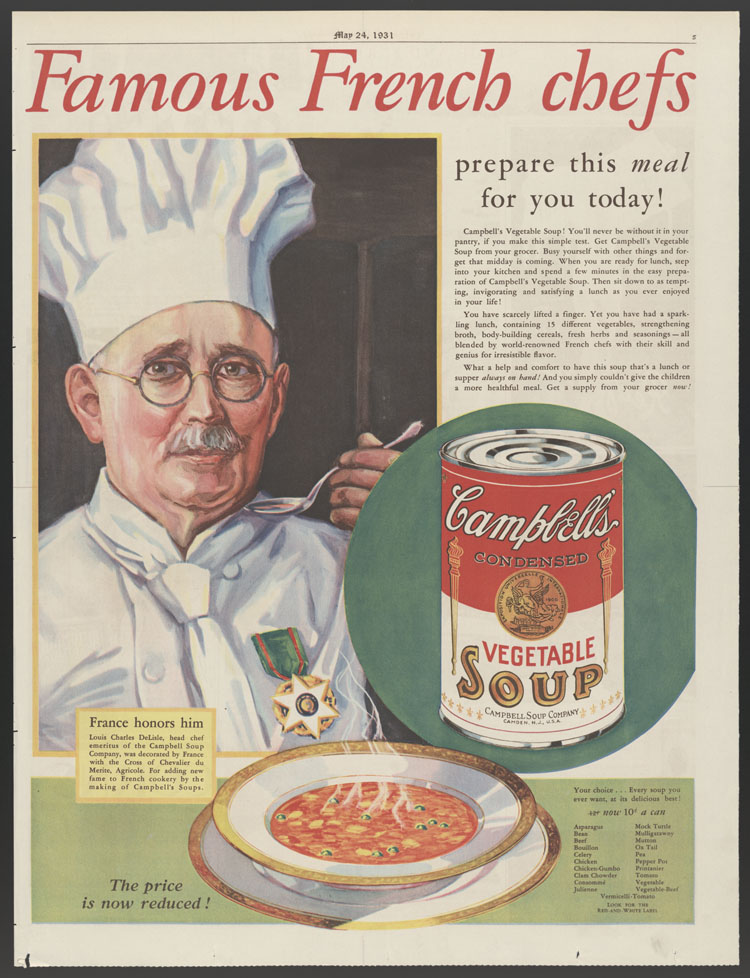 In the box titled "France Honors Him" it states, "Louis Charles Delisle, head chef emeritus of the Campbell Soup Company, was decorated by France with the Cross of Chevalier du Merite, Agricole. For adding new fame to French cookery by the making of Campbell's Soups."
Apparently, a gold medal from France isn't as impressive in 2011 as it was in 1900. I blame Jerry Lewis. Their love of him clearly devalued the brand.
We bought a can of Cream of Mushroom because it was the only can in the whole joint that still had the original design. Plus we won't ever be tempted to open it up because hubby doesn't like Cream of Mushroom Soup (Sorry Louis) and I can't eat gluten.
Family legend has it that Louis had the choice of a steady salary or one penny per can. He took the salary which is why my husband isn't heir to a soup fortune. It's also why we shop at the 99 Cent Store.