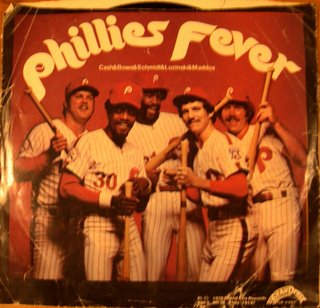 For the past 24 hours, I have had the ghastly 1976 song "Phillies Fever" stuck in my over-sized head.
Not since Cleveland's "Ten Cent Beer Night" has major league baseball embarrassed itself so thoroughly with a failed marketing campaign.
Back in the heady days of disco, somebody got the not-so-bright idea of tossing Dave Cash, Mike Schmidt, Larry Bowa, Greg Luzinski and Garry Maddox into a recording studio with a bad guitar wah-wah pedal. The result is a non-danceable, unlistenable tune which just might rival Dave Shultz's "Baby How Long You Gonna Keep Me In The Penalty Box" for its ear-popping badness.